RIVER DEE
The Club has 4 stretches on this river.
The upper-most beat is just below Corwen and is a favourite water with many of our members.
.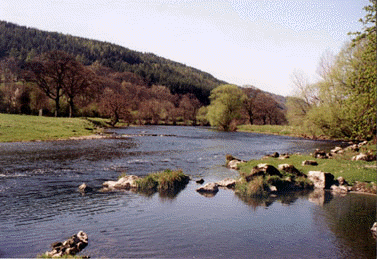 The beat is superb salmon water, over 1.5 miles of left-hand bank. There are 7 recognised pools, 3 of which are excellent for fly-fishing, with safe wading. The exponent of the two handed fly rod can really enjoy themselves here!
Some of the pools fish better on low and others on high water, so there is always fishing on offer.
The grayling fishing is among the best in the UK. and the Club regularly stocks the water with brown trout.
The Club has rods on one of the most productive stretches of the River Dee. The stretch is by the villages of Erbistock and Overton. The water is divided into 4 beats and the rods will rotate through these. This is excellent fly water, although fish are taken on spinner and bait as well.
Near Chirk is our landmark water, being owned rather than leased. There are approximately 900 metres of classic salmon water with five good pools. The bottom can be rough so wading, although possible, should be treated as potentially dangerous and great care should be taken. A wading staff is a great help and a life jacket is recommended. The water has recently been enhanced with strategically placed heavy boulders offering new lies and increased flow through sluggish water.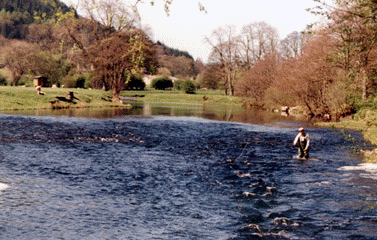 Most salmon from the Dee are caught on either fly, spinner or shrimp. Favourite flies are Stoat's Tail, Thunder and Lightning, small tube flies and the Ally Shrimp in all its variations, usually all fished on floating or sink-tip lines. Best spinners are the Flying Condom (outstandingly good, particularly black and gold), Mepps No. 2 (in low water conditions particularly) and occasionally, plugs such as the Yo-zuri crystal minnow.
Shrimping is generally carried out free-lining, without the use of a float and minimal weight applied.